The Experience Farming Project is a self-directed and participant-driven opportunity for aspiring farmers to gain valuable hands-on experience while independently working a plot of land at one of two locations in the Snoqualmie Valley.  We provide access to the land, resources, and tools needed to get started as a successful farmer without the often prohibitive start-up costs associated with purchasing or leasing land and equipment.
Continued learning is a key component of the Experience Farming Project.  With the support of an experienced farmer mentor, participants set their own learning goals at the beginning of the season and evaluate their success in meeting these goals at the end.  Mentors are also available to answer questions and to direct participants to community resources that may promote learning.
As part of the Experience Farming Project, all participants will employ sustainable farming practices that support the continued integrity of the land at our host sites in accordance Certified Naturally Grown standards.
For more information:
Experience Farming Project Handbook
The Experience Farming Project was recently featured in 425 Magazine:
Growing Farmers: The Experience Farming Project
To apply:
Priority will be given to those submitting their applications by November 1st, 2017
Send an email to Sean@snovalleytilth.org with your name and contact information (phone, address) and short answers to the following:
1. Describe your farming experience.
2. Describe your goals for the program.
Resources
New Farmer Core Competencies – a handbook from the Northeast Organic Farming Association of New York. This document is a tool to provide activities and a comfortable context to monitor, reflect upon and track changes as an aspiring or new farmer  goes through a season of farm training. Its primary function for aspiring farmers and their mentors is identification of significant knowledge, experience or confidence gaps and the creation of a strategy to address those gaps.
Resources for Continued Learning – compiled by SnoValley Tilth farmers and volunteers.
About the Experience Farming Project Site
We lease the historic Stuart's Landing site from David Andrews and Claire Foster. These landowners share SnoValley Tilth's passion for seeing fertile farmland used for food production. With a vision to convert their fields of blackberry and thistle back to productive land, they began leasing to a few farmers in the Snoqualmie Valley. In 2012 we began collaborating to develop the Experience Farming Project. Now their site is the launching pad for the next generation of farmers.
Acknowledgements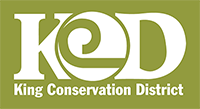 King Conservation District is funding critical infrastructure improvements that will contribute to the success of our Experience Farming Project program participants in their endeavor as new farmers.
The support of the USDA/WSDA Specialty Crop Block Grant Program has allowed us to expand our program to be able to serve more new farmers.