Cathryn Baerwald's Summer Run Farm is known for its produce and certified-organic garlic, but this Snoqualmie Valley farm has recently had the opportunity to diversify in a unique way, with the addition of a diminutive bovine whose large brown eyes are as sweet as the milk she produces. Her name is Petunia.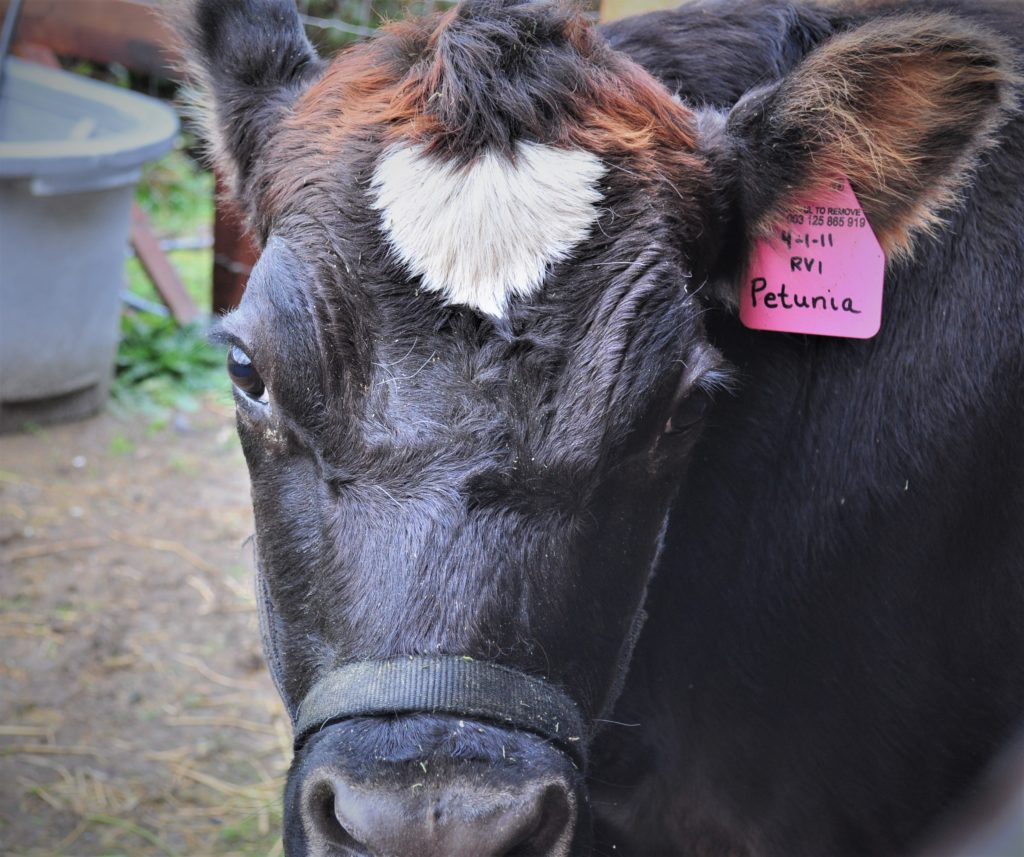 Petunia is a six-year-old miniature jersey cow, standing only 42 inches tall at the hook. She traveled from Nebraska and arrived at Summer Run Farm a few weeks ago, and has settled into her comfortable barn overlooking her own five-acre pasture on the property. Petunia and Cathryn have formed a fast bond, although it was a bit of a winding road before their paths joined in the milking stall they now share every morning.
A basket of unused calf bottles sits atop a refrigerator in the barn. As she busily sanitizes and prepares the milking equipment on a mild January morning, Cathryn explains that when she set out to obtain a miniature jersey cow, she had intended to bring home a calf – not an adult cow. However, after seeing a photo of Petunia on the breeder's website, those plans changed. Petunia had been sold previously, but was brought back to the breeder's farm after she was severely neglected by her owner. Petunia's breeder had no intentions of selling her again, but eventually relented, and Cathryn brought home to Summer Run Farm the cow whose crumpled-up photo she had been carrying around for quite some time.
Caring for an adult cow whose milk production is at its peak is a much different game than caring for a calf, as she originally had planned to do, so Cathryn comments that she's had to learn a lot very quickly. Petunia is milked every morning, and Cathryn can now complete the whole careful process – cleaning and sanitizing the equipment, milking Petunia, storing the four gallons of milk Petunia produces daily, and cleaning the equipment once again – in about an hour.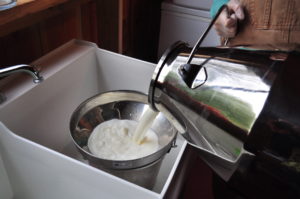 Cathryn explains that most produce farmers don't have an hour to spare in their busy schedules to spend milking a cow every morning, which brings up the question of why one would take on this task. Cathryn's aim in bringing Petunia to Summer Run Farm was to assess potential on-farm uses for raw milk, especially as livestock feed (for pigs, chickens, turkeys, etc.) and trial runs as a natural fertilizer and pest repellant on the fields, with the ultimate goal being a healthier, more sustainable and self-sufficient farm. A miniature jersey cow is the ideal candidate for such a situation, since their small size makes them less resource-intensive and their physical impact on the land is much lighter. Additionally, the feed-to-milk-production ratio is higher for a miniature jersey than a full-size cow, so they will yield a greater amount of their sweet, high-cream milk on proportionally smaller quantities of feed. Cathryn expects that the milk Petunia produces will be plenty for the farm's needs.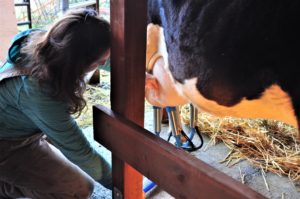 The Humanlinks Foundation/Tilth Alliance grant Cathryn was awarded not only helped with purchasing Petunia, but also with purchasing the milking equipment and a fertilizer sprayer, which will be used to apply the diluted raw milk (with fats and cream removed) to sample crops of non-edible plant parts, grasses and flowers. Cathryn plans to evaluate the success of these trials in terms of reduced spending on fertilizer, shipping, and tractor fuel; increased vegetable yields and quality; decreased pest damage to plants and improved health of other animals on the farm.
Cathryn acknowledges that keeping a cow for the purposes of using the raw milk on-farm may be an endeavor more of interest to homesteaders than to produce farmers, but she stresses that it is possible to make it work for the farmer's needs. She plans to dry Petunia off so that she'll be out to pasture and not in need of milking during the busy produce season for Summer Run Farm. Once Petunia has been bred back and has a calf at her side, Cathryn will then have the option of milking her or not, depending on the needs of the farm at the time.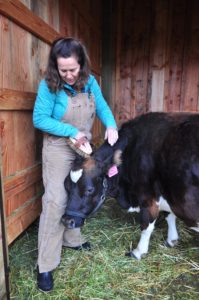 In the meantime, Cathryn and Petunia will continue their morning milking routine. Once the equipment has been cleaned and the milk added to the fridge whose shelves are already filled to capacity with beautiful golden milk frozen in bags, Petunia gets a good brushing with her required scratch under the chin before being let out to pasture for the day.
Cathryn sees the addition of Petunia to Summer Run Farm as a turning inward; a step toward making the farm more self-sustaining. She hopes that her experience will be an example to encourage other farmers to pursue grant funding for their own projects, and for others who may want to look into the benefits of cow ownership and the use of raw milk on their own farms.
---
The submission period for 2018 Tilth and Humanlinks Foundation Farm Grants is now open. The application deadline is January 31st. For more information: http://www.humanlinksfoundation.org/programs
Story and photos by Lainey Piland