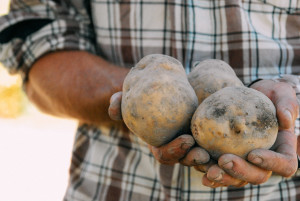 Thank you.
When you click the Donate Now button below, you will be taken to PayPal.com to process your donation. A PayPal account is not required. Please consider a monthly donation (this option is available on the Paypal site that this button will take you to). We are working year round to see more farmers on more farmland, growing more sustainable food and fiber for our community!
We just felt ourselves sprout a new leaf!
We greatly appreciate your support.  Coming together as a community is one of the best ways to assure that local, sustainable farms will be thriving in our valleys in the years to come.  Our educational, farm-incubation, farmers' market, and community-building efforts could not exist without your help.  All donations are tax-deductible.
Your donations help to:
Raise public awareness regarding the value of local, sustainable food production.
Support preservation of farms and farmlands in the Snoqualmie Valley.
Operate the Carnation Farmers Market including an extended season with the Tolt Community Shelters.
Support our small farm incubation and mentoring program: the Experience Farming Project.
Coordinate year-round monthly public talks and tours where we share food, concerns, experiences, knowledge, and tour a variety of local farm operations.
Sponsor educational activities, events, and roundtable discussions about issues related to sustainable agriculture.
Provide a support network and mentorship for new and existing farmers.
Represent local, sustainable farmers in farm-positive public policy advocacy.
Promote food safety and food justice.