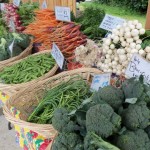 Market will reopen on May 1st for the 2018 season. Join us Tuesdays from 3-7pm, May-October.
SnoValley Tilth has proudly operated the Carnation Farmers Market since 2005. Located at the Tolt Commons Community Shelter in the heart of downtown Carnation from May through November, the market features local food and products from SnoValley Tilth members, family farms, and small producers.
Join us next Tuesday for the freshest produce, the most delicious treats, local wines, and dinner ready-to-eat made from local ingredients. Kids' activities abound as well! See you there!
Links:
Carnation Farmers Market Website (carnationfarmersmarket.org)