Farming is a physically demanding job and many of us throw ourselves at it when we're young with unlimited energy and enthusiasm for the hard work. To make it sustainable for the long haul we also need to be smart about the tools we choose, the systems we set up and the work spaces we create.
Join us for this full day workshop where we'll look at photos of actual on farm solutions, demonstrate actual farm tools, and discuss ways to improve efficiency on the farm with ergonomics in mind. We'll look at methods that are simple and cost little to nothing to implement but can make a huge difference in the long term health and happiness for both you and your workers. We'll also discuss farm-hacks for improving existing tools and how to design your own tools to customize your systems. Registration is required.
Efficiency and Ergonomics on the Farm
Sunday, March 4th  :  9:45am – 4:30pm
28901 NE Carnation Farm Rd, Carnation WA 98014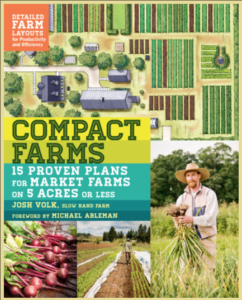 Josh Volk has been working on small farms for the past 20 years. He started as a mechanical engineer with a garden, was inspired by John Jeavons to learn production techniques, apprenticed on a tractor scale farm in California before managing farms and setting up tractor based systems for 10-15 acre vegetable operations. For the past 10 years he's been splitting his time between a return to hand scale production, consulting for tractor scale operations, designing tools, and writing articles about farm tools and techniques. He is author of the recent book "Compact Farms: 15 Proven Plans for Market Farms on 5 Acres or Less." He currently lives and farms in Portland, Oregon.
This workshop is funded in part with generous support from American Farmland Trust